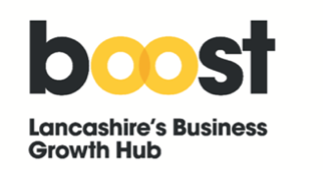 Boost by title boost by action.  I engaged with Boost in 2020 to understand the options and opportunities they could present to and for me as a growing and recovering business in Lancashire.  What followed was a journey of support, relationship, and growth, fuelled by a genuine interest in me, my business, and my contribution.
Boost presented the opportunity for me to apply for growth recovery funding.  This enabled me to refresh, reposition and elevate my business brand.  The grant money has unquestionably elevated by business brand and provision, with 100% being spent, in Lancashire with Lancashire businesses.
In addition, an introduction to my business relationship manager Alan Reid, was facilitated.  This business relationship has evolved into one which is supportive, enjoyable, offers mutual benefits, as a service provider and service consumer in Lancashire, with potential to work together to support each other's business interests and provide linkages to enable regional growth.
Boost has enabled me to recover, elevate and engage with others in Lancashire.  It's reassuring to know organisations like Boost exist to support us in challenging time, connect us, and work with us for the good of all.
Thank you Boost.